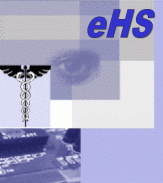 KNOWLEDGE AND RESOURCES ON INFORMATION AND COMMUNICATION TECHNOLOGIES FOR HEALTH AND HEALTHCARE
e-Health
Knowledge Sources
ICT Initiatives
STIA 443
Consulting
Partners


What is e-Health?
Advances in information and communication technologies and the dissemination of networked data processing have forged a new environment of universal access to information and the globalization of communications, businesses, and services.Typically solutions have been aimed at the improvement of productivity, effectiveness, and efficiency, both internally and in the relationships with clients, customers, suppliers, and partners.
The essence of e-Health is reliable transaction delivery in a fast-changing environment involving people, processes, and a health services infrastructure focused on the ill or healthy citizen. e-Health solutions build on e-Commerce and e-Government strategies and experiences in using Internet-based networked technologies to rethink, redesign, and rework how businesses and public services operate.
e-Health has rapidly evolved from the delivery of online medical content toward the adaptation of generic e-Commerce solutions to the processing of health-related administrative transactions and logistical support of clinical tasks.
Emerging e-Health applications are oriented to professional networking, integration of the clinical care process management, and the provision of Web-based health information and healthcare, including remote monitoring and patient care.